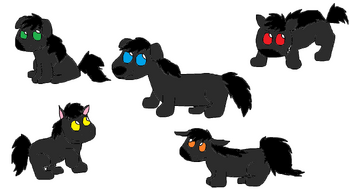 Púcas' are mythical creatures that appear in a Season Two episode. However, they make Easter Egg-like appearances in Monster Party and an unnamed as of now Season Three episode.
Description
Edit
They are basically black and grey dog/horse creatures who change their shape to whatever (or whoever) they're around or to something that may calm that said person down (so, after they finish panicking, they can attack them). Púcas are either very calm or very hostile. They can choose to attack someplace or help out there. Otherwise, they stay in their cave underground.
Ad blocker interference detected!
Wikia is a free-to-use site that makes money from advertising. We have a modified experience for viewers using ad blockers

Wikia is not accessible if you've made further modifications. Remove the custom ad blocker rule(s) and the page will load as expected.